1.
Screw Jack
Function:

Worm gear screw jacks are ideal for various applications, regardless if you are lifting, lowering, tipping or moving. In each case, the different industries and the different power parameters require a powerful, reliable screw jack that is easy to adapt to the specific
application, and to extend to a complete worm gear screw jack system.
2. Our
Jack
's Advantages:
-Self-locking ability
-Can be driven directly by motor or other power or manual
-Can be customized according user's demand
-Compact configuration, small size, lightweight
-Convenient installation, flexible operation
-High reliability and stability
-More connection form etc.
3. How to Choose a Screw Jack?
Q1: The lift capacity is ? Kg (it means how many Kilos or KN the screw jack need to lift)
The screw's travel stroke is ? mm (it means the screw length, such as 400mm)
The ratio? (it means how much time you want the screw to use to finish the travel stroke? Such as I want to use 10 Sec to finish the 400mm stroke, it means the speed requirement)
Answer: I need lift Kn (Kg) weight, stroke is mm, I want to use seconds to finish the stroke.

Q2: Which the screw top you need? Answer: I need (T H S R).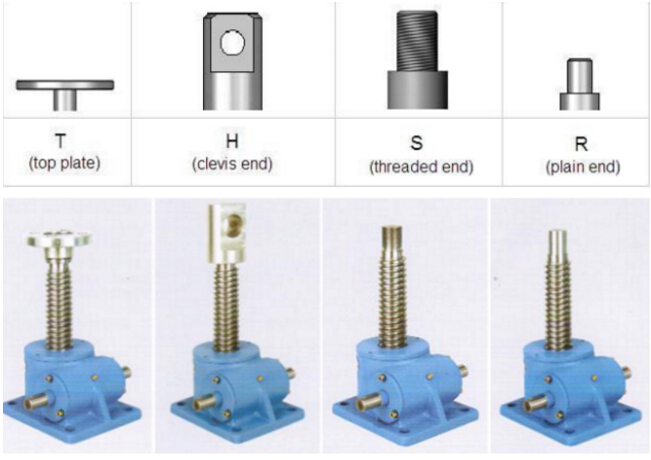 Q3: Hand wheel driven (manual) or electric motor driven? Answer: I need____.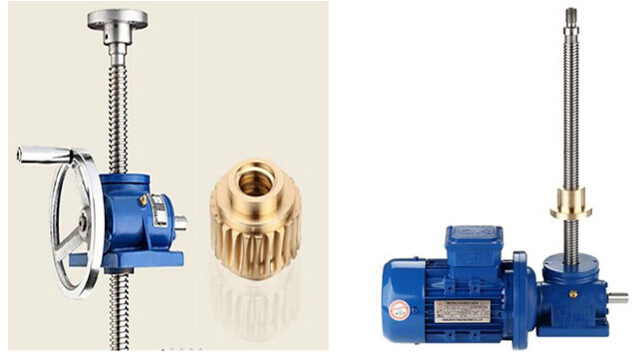 Q4: Linkage scheme, if you need two or above two sets screw jacks to linkage, pls see the below.