1. Picture & Function: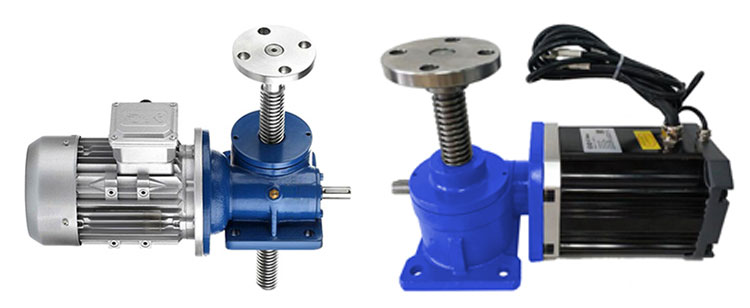 Motorized machine screw jack is widely used for lifting, drop, push and inverting through worm gear drives screw. The motor can be servo motor or AC motor or DC motor. Its load capacity can be from 2.5ton to 120ton.
2. Main parameters:
Maximal load:98kN
Screw Thread size: Tr50×10
Worm ratio:1:8(high speed H) / 1:24(low speed L)
Amount of lift per revolution for ratio H: 1.25mm
Amount of lift per revolution for ratio L: 0.42mm
Permissible output maximal power: 2.8kw(high speed) / 1.4kw(low speed)
3. Advantages:
-Can be of different screw top ends,like plain end/threaded end/top plate/clevis end/fork end.
-Self-locking ability
-Can be driven directly by motor or other power or manual
-Can be of different colors customized
-Convenient installation, flexible operation
-High reliability and stability
4. Production Show

5. Standard Motor Parameters
Worm Screw jacks can match with IEC flange size 56-112,B14 and B5 AC motor or motor with brake,it can also match with single phase motor,explosion-proof motor, DC motor and servo motor.
-3 phase AC motor
-Protection class: IP44,IP54,IP55
-Voltage:380V 50HZ
-Insulation:F