Brief introduction:
Small acme Screw jack/lift is a basis jack-up part, accomplish the functions such as lifting, drop, push and inverting through worm gear drives screw.
The worm shaft is supported on anti-friction tapered roller bearings with external seals that prevent lubrication loss.Its load capacity can be from 5kN to 100kN.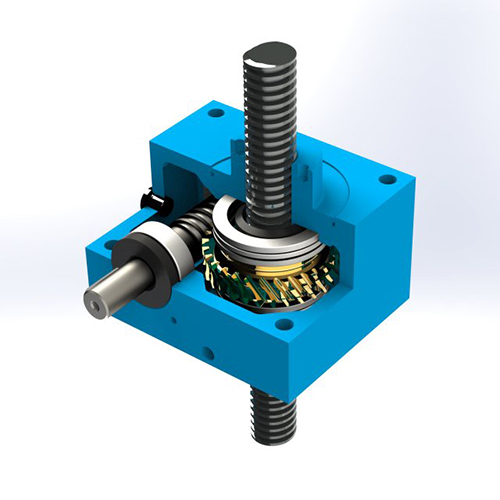 Main parameters:
Maximal load:50kN
Screw Thread size: Tr40×7
Worm ratio:1:4(high speed H) / 1:16(low speed L)
Amount of lift per revolution for ratio H: 1mm

Amount of lift per revolution for ratio L: 0.25mm

Permissible input maximal power: 0.57kw
ACME Jack's Features:
It is suitable for low speed and low frequency.
Main components:Precision trapezoid screw pair and high precision worm-gear pair.
1.Economical:
Compact design,easy operation,convenient maintenance.
2.Low speed and low frequency
Be suitable for heavy load,low speed,low service frequency.
3.Self-lock
Trapezoidal screw has self-lock function,it can hold up load without braking device when screw stops traveling.
4. Widely applied in industries such as machinery, metellurgy, construction and hydraulic equipment.
5. Top End: top plate, clevis end, threaded end, plain end
Small acme screw jack is applied in spray infeed conveyor lift system, theatre stage lifting platform, solar tracker, satellite dish antenna azimuth, raising sluice gate, screw scissor lift table, synchronized lifting system, food processing oven lifts system, feeder leveler, roller adjustment, tunnel ventilation damper adjustment, postform roller elevation, car lifting trolley, extrusion machine etc.