ACME worm screw jacks are widely used, they are suitable for heavy load and low speed, and they have self-lock function.Trapezoidal screw jacks are widely applied in industries, such as machinery, metallurgy, construction, and hydraulic equipment, and has many functions, such as lifting and pushing and turning with the help of accessories or adjusting height and position.
ACME Machine Screw Jacks Features
•Are best for slower movement and low to moderate duty cycles
•Most machine screw jacks are inherently self-locking
in the absence of vibration
•A brake motor is usually NOT required to hold position on self-locking jacks
•Anti-backlash devices can be specified to limit backlash in reversing loads
•Stainless steel, metric, and motorized jack models are available with machine screws
•Adaptable for wash down applications
JWM200 Machine Screw Jacks Parameters
Maximal load:196kn
Outer screw diameter: 65mm
Small screw diameter: 49.3mm
Screw Pitch: 12mm
High speed ratio: 8 Permissible output maximal power: 5.0kW
Low speed ratio: 24 Permissible output maximal power: 3.2kW
Screw top end: can be top plate,plain end,threaded end,clevis end and fork end for translating type;
plain end,threaded end ok for rotating type
Translating type with and without anti-rotation

Rotating type


JWM200 Acme Screw Jack Specifications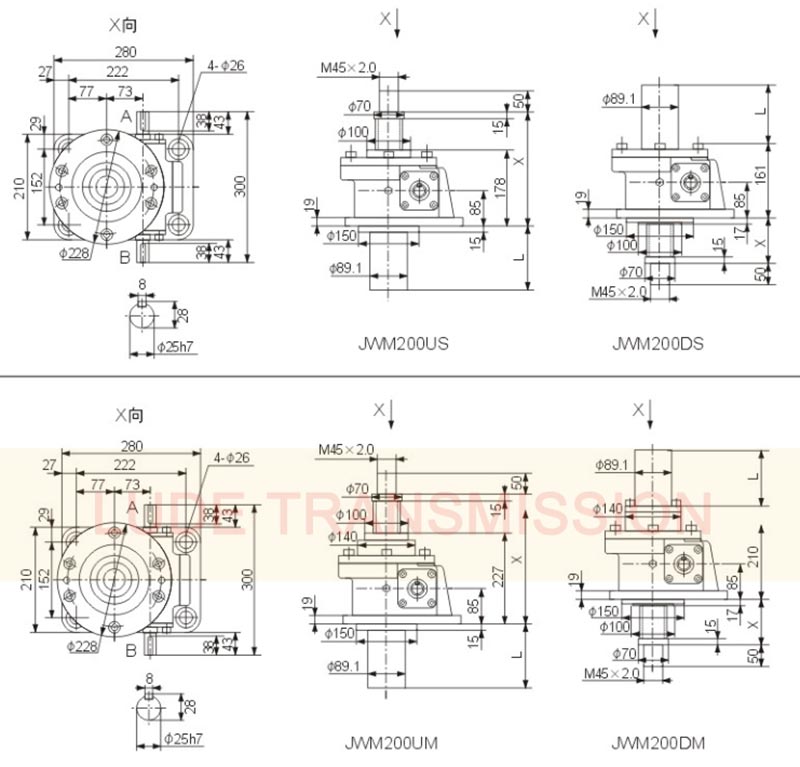 ACME worm screw jacks with hand wheel electric ACME screw jacks

Our Advantages

1. High-end automated processing equipment and advanced rolling product structure design concept.
2 .Reasonable price with good quality and best delivery time.
3. Our engineers will help customer consider all safety factors, select correct models step by step with
customers' engineers, we will offer customer CAD drawings for last confirmation before ordering.
Customers tell us the detailed needs,we will customize suitable products accordingly.
4 .Our sales team will give prompt feedback within 24 hours except they are dealing with urgent things.
5.The warranty period is one year, during warranty period, any problem of our products, after we confirmed, we will guide customer to fix or ship a new one to replace.